Undergraduate
Bauer in D.C. Internship Program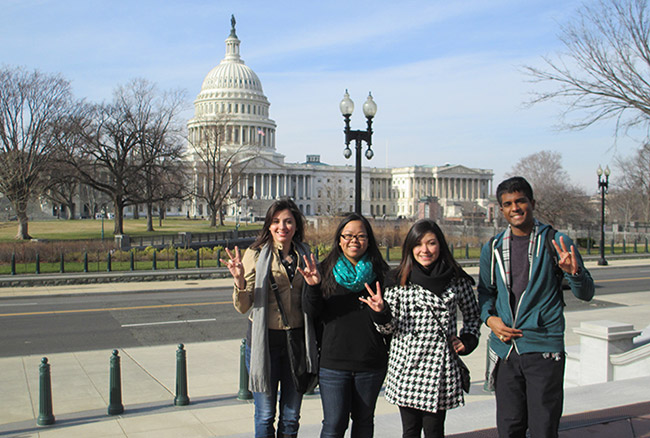 Are you interested in working for the government, a non-profit or an innovative business in our nation's capital? Does the thought of having a business internship in the energy, healthcare or defense sector excite you? Have you always wanted to see how the federal government will impact you as a future business leader? If you've answered yes to any of these questions you should consider an internship in Washington, D.C.
The Bauer in DC Internship Program is an academic and professional experience in Washington, D.C. Participating students will intern at least 32 hours per week, for 12-14 weeks, in our nation's capital, and may earn up to 9 hours of academic credit. This is a once-in-a-lifetime opportunity to gain valuable work experience, earn academic credit and live in our nation's capital.
Program Dates:
Monday, January 6th, 2014 through Friday, April 18th, 2014. These dates are subject to change and will be confirmed closer to January 2014.
Internship:
Participants can apply for internships at the organization of their choosing. Bauer Staff will assist you in your internship search to ensure that you find a substantive opportunity prior to arriving in Washington, D.C. Below is a short list of possible internship sites. This is just a starting point. You are welcome to apply to any organization in which you are interested.
The White House
The Department of Defense
The US Supreme Court
Congressional Offices
Office of the US Trade Representative
The World Bank
The Federal Reserve
FDIC
The Department of Commerce
The Department of Treasury
Securities Exchange Commission
American Petroleum Institute
The Financial Services Roundtable
Wine and Spirits Wholesalers
Academic Credit:
Participants may earn up to 9 hours of academic credit for the internship experience. Once students are selected for this internship, they will be required to meet with Colleen Davies, cmdavies@uh.edu, and their academic advisor to determine exactly how the credit will be applied towards their degree.
Housing: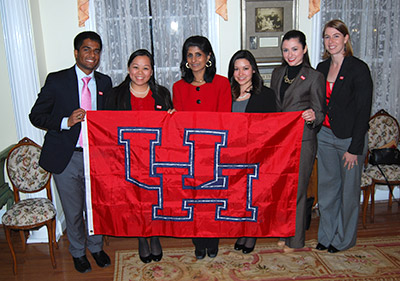 Participants will live together in historic townhomes on Capitol Hill owned and managed by Washington Intern Student Housing (WISH). Bauer will cover the housing costs for all participants, which will include utilities and internet service. More information on WISH can be found at www.internsdc.com.
Cost:
The Bauer College of Business will cover the cost of the program and placement fees for the internship in Washington, D.C. as well as housing costs for the duration of the internship. Each student will be required to pay for tuition for 9 credit hours, their round-trip flight to Washington, D.C., and their living expenses for the 3.5 months they are in Washington, D.C., which is estimated to be $7,500. Also, participants must have valid health insurance in order to participate in this program. Participants will be enrolled in UH courses so their scholarships and grants could be applied towards the cost of the program. Please meet with the Scholarship Office to determine if your allotment can be applied to the Bauer in DC Internship Program. Below is a sample budget.
Sample Budget
Tuition/fees for 9 hours
$3,100
Roundtrip plan ticket to Washington, DC
$400
Food (groceries, eating out, etc.)
$2,000
Transportation (Train, bus, limited cab usage)
$500
Entertainment/sightseeing/miscellaneous
$1,500
Total
$7,500
In order to apply you must have:
Completed 60 hours and have a degree plan on file at the conclusion of the Fall 2013 semester
3.0 GPA or better
Work experience of some kind
Application Process:
In order to be considered for this internship opportunity, you must apply through the Career Gateway System. Your application will consist of the following:
Resume
2 letters of recommendation (one must be from an academic source)
1-2 page (double-spaced) personal statement explaining why you want to intern in Washington, D.C. and what you expect to gain from this experience
All application materials must be submitted into Career Gateway by Friday, September 13, 2013.
For Additional Information
If you have additional questions or would like to discuss the Bauer in DC internship program in greater detail, please contact Colleen Davies at cmdavies@uh.edu or at 713-743-4709