Prospective Undergraduates
Houston in the Media
---
"Houston is arguably America's most enthusiastically cosmopolitan city, a place where the future has already arrived."
-The Economist, 2009
Houston is One of the Best Places for Work as War for Tech Talent Heats Up
(May 2011)
As the economy continues to improve, companies have started to reinvest in new projects and technologies in an effort to remain competitive. Consequently, these organizations are beginning to staff up, meaning the war for qualified talent in the IT sector is on the rise. Modis, a leading provider of information technology staffing, has identified a list of the top seven cities across the country to find IT jobs today, with Houston ranking as the best place to land an IT position. Read more.
(January 2011)
Houston Not Tops, But Among Hot Spots
for Business in '11 in U.S.
(December 2010)
Houston was recognized on a MarketWatch list of best cities for business in 2011, which measured unemployment rates, personal income growth, tourism and military contributions to local economies. Read more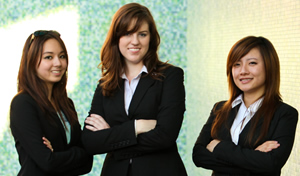 Texas is Top State for Doing Business
(September 2010)
The Lone Star State is No. 1 again on CNBC's list of the best states for doing business, based on factors such as workforce, quality of life, economy, education and cost of living. Read more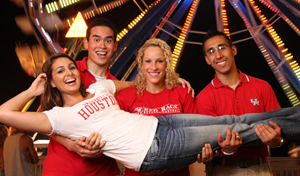 Kemah Boardwalk One of the Nation's Best
(August 2010)
Ready for some fun and games? ShermansTravel.com rates the Kemah Boardwalk (just a short drive from Houston) in its top 10 list of the best U.S. boardwalks. Read more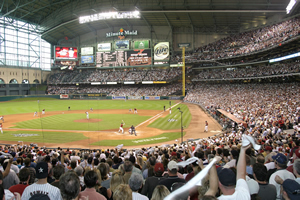 Houston. A Grand Slam. Among Best:Job Market, New Grads, Singles, and Entrepreneurship.
(July 2010)
Among the City of Houston's most recent accolades are three lists that place it among the best cities for new college graduates, singles, and those looking for jobs.
BusinessWeek magazine ranks Houston #1 for college graduates, citing it as the city with the best mix of job openings, pay and affordability. Read more.
BusinessWeek also names Houston one of the country's strongest job markets. According to the ranking, the Houston area has performed better than many job markets during the recession, and the population continues to grow. Read more.
Yahoo! Travel includes Houston in its list for the best singles scene for its well-endowed museums, highly regarded performing arts scene and nightlife. Read more.
Top City for Entrepreneurial Activity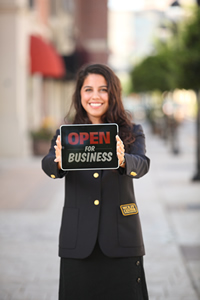 Houston is a hotbed for innovation and business creation, and according to new stats, the No.1 place for entrepreneurs in 2010. According to the latest Index of Entrepreneurial Activity from the Kauffman Foundation, Houston has the highest level of entrepreneurial activity out of the 15 largest U.S. cities. Read more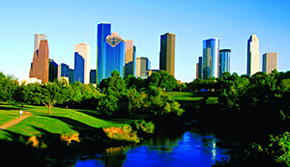 10 Great Cities For Young Adults
(Kiplinger for yahoo.com – Jul 27, 2010)
Free from ties to kids or a mortgage, young adults can settle virtually anywhere they choose. So which place is best for you when the world is your oyster? Read more
Top City Surviving Recession
(MainStreet.com – May 11, 2010)
MainStreet.com called Houston one of the top cities in the nation surviving the recent recession. The list highlighted Houston's job growth forecast for the coming years and positive rankings for jobs from 2007 to 2009, during the height of the recession. Read more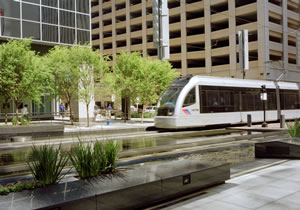 Best Cities for Jobs
(U.S. News & World Report  – August 21, 2009)
U.S. News & World Report included Houston in its list of the best places in the country to find a job, citing its resiliency during the recent recession and the city's thriving industries, including ConocoPhillips and Marathon Oil. Read more
(Forbes.com – April 14, 2009)
Houston ranked #2 in the nation on the Forbes list for Best Big Cities for Jobs. The metro area didn't see any single sector of employment rise dramatically in 2008, but modest growth across many categories, including natural resources, mining and construction, education and health services, and wholesale, prevented losses. Manufacturing jobs in the Houston area actually increased 2.3 percent, a surprising anomaly compared with most of the data available on job growth in America's largest cities. Read more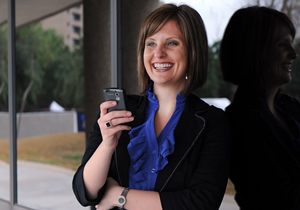 Best Cities for Young Professionals
(Forbes.com – July 9, 2008)
Forbes ranked Houston the #3 city for young professionals, citing its high concentration of the nation's best geospace engineering firms, oil and gas operations companies, and oceanic exploration companies. Read more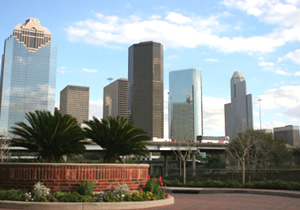 Forbes Ranks Houston 9th in Best Bargain Cities List
(Forbes.com – May 13, 2009)
To determine which U.S. cities are the best bargains, Forbes looked at the country's 50 largest U.S. metropolitan statistical areas and metropolitan divisions--geographic entities defined by the U.S. Office of Management and Budget used by federal agencies in collecting, tabulating and publishing federal statistics.
We assigned points to metro regions across four data sets: Average salary for workers with a bachelor's degree or higher, from PayScale.com; annual unemployment statistics, from the Bureau of Labor Statistics; cost of living, from Moody's Economy.com; and the Housing Opportunity Index, from the National Association of Home Builders/Wells Fargo, which measures the amount of homes sold in a given area that would be affordable to a family earning the local median income based on standard mortgage underwriting criteria. Read more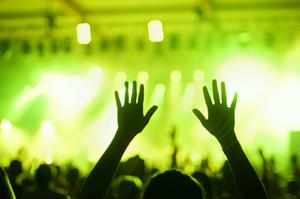 A multitude of live music venues from intimate to outdoor stadium capacity offer fans a chance to catch everything from classical, country, hip hop, salsa to the latest touring acts.
Best Places to Live, Work and Play
(Kiplinger's Personal Finance – July 2008)
Kiplinger's Personal Finance called Houston the "Comeback Kid" on this list of the best cities to live, work and play, citing its mixture of energy, aerospace, technology and medical careers available for residents as well as the city's myriad museums and restaurants. The Houston metro area leads the nation in job growth, and its cost of living stands well below the national average, the magazine said. Houston topped Provo, Utah; Des Moines, Iowa; Sacramento, California; Fayetteville, Arkansas; Austin, Texas; Colorado Springs, Colorado; Boise, Idaho; Omaha, Nebraska; and Raleigh, North Carolina.
Best U.S. City to Earn a Living
(Forbes.com – August 18, 2008)
This ranking heralded Houston's dynamic business environment, low unemployment and high wages relative to cost of living. Forbes.com called Houston the American business hub for oil and commodities. Houston topped Philadelphia, Milwaukee, Dallas, San Francisco, Pittsburgh, New York, Washington, D.C., Boston, and Minneapolis.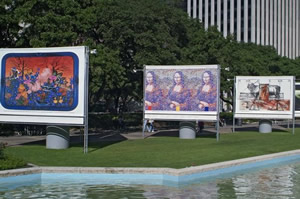 Public art graces many public green spaces and throughout Houston.
Best City for Your Job
(BusinessWeek – June 12, 2008)
Houston is the best city in the country for workers to find a good job and a high standard of living, according to BusinessWeek. Houston scored high for careers in the oil and gas industry, as well as those in management, medicine, mechanical and civil engineering, finance, marketing, law and information technology. The magazine reported that job seekers in all sorts of careers have started streaming into Houston, where the unemployment rate was 3.8 percent in April, the lowest level in eight years, and where the job growth rate was 2.8 percent.
Best City to Buy a Home
(Forbes.com – July 14, 2008)
Houston held the top position on the Best Cities to Buy a Home list produced by Forbes.com. The city's booming energy industry and a growing entrepreneurial tech scene contributed to the ranking. Home prices are on the rise by 6.6 percent, and vacant homes have disappeared by 11.3 percent in the last two years, the Web site said. Houston topped Atlanta, Jacksonville, San Francisco, Charlotte, Dallas, San Antonio, Philadelphia, St. Louis and Austin.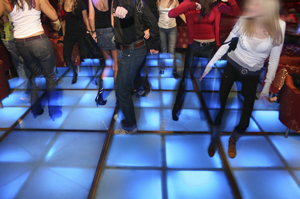 A vibrant nightlife scene is found throughout Houston including downtown, midtown, uptown, and in Rice Village.
Best City for Recent College Grads
(Forbes.com – June 26, 2008)
The list of Best Cities for Recent College Grads belongs to Texas, with Houston nabbing the first spot, followed by Dallas and Austin. Houston's average starting salary of $44,100, for those with bachelor's degrees is the second-highest in the nation, and the oil, technology and banking are booming, according to Forbes.com. Houston topped San Francisco, Washington, D.C., Raleigh-Durham, Charlotte, Atlanta, Seattle, Denver, Austin and Dallas.