New Bauer College Board Member Recognized by Greater Houston Women's Chamber of Commerce
Sandra Oliver Honored as "Breakthrough Woman"
Published on May 7, 2020
A new member of the Bauer College Board, Sandra Oliver, is one of a select group of women business leaders who will be recognized by the Greater Houston Women's Chamber of Commerce (GHWCC) this August.
GHWCC annually honors a group of "Breakthrough Women," at its annual conference. The women are described as "leaders in their industries (who) demonstrate amazing courage and leadership in reaching their career goals."
Oliver is the Ernst & Young (EY) U.S. West Audit Leader, overseeing 280 partners working in 18 states.
A trailblazer in her field, she was the first EY woman promoted to partner while on a flexible work schedule. "I'm hugely proud of that, not just for me, but for others, to show what was possible," Oliver said.
"When I had my first son, I was a senior manager and went on a reduced work load for 10 years. I had a passion for being a working mom and still having a fulfilling career. I was fortunate to work for people who really supported me and wanted to see me succeed."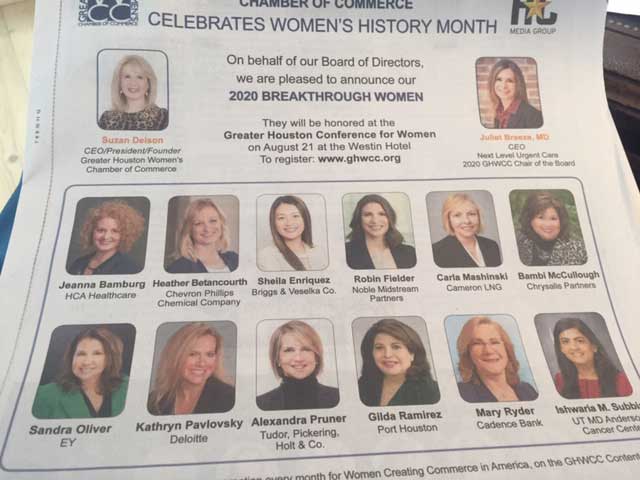 Now, she and husband Mark are parents of three teenage boys, and Oliver continues to mentor moms and dads who want to work flexible schedules while excelling in a demanding job.
Oliver serves on the board of the National Organization for Parents of Blind Children and Junior Achievement of Southeast Texas. She brings first-hand knowledge about skills gaps in audit education that Bauer College can use to expand its curriculum.
"The audit of the future is evolving quickly with data analytics, and many schools are behind in really driving that," she said. "I look forward to being able to be a sounding board from the business on what's needed in higher education."
In her position at EY, Oliver oversees the operations, markets, talent, and audit quality functions for the region's Audit practice. She also helps her audit clients fulfill regulatory requirements and keep investors informed.
She recently completed a four-year rotation as the Americas Assurance Talent Leader for EY.
With more than 25 years of combined public accounting and internal audit experience, she has served a wide range of clients from small, privately held entities to large, multinational companies.
"For more information about the No Limits Greater Houston Conference for Women, scheduled for August 21 at the Westin Galleria Hotel, click https://ghwcc.org/.