The Ticker
Contact: Jessica Robertson Navarro
Senior Communications Manager
DLS Speaker Somerhalder Optimistic on the Long-Term Role of Natural Gas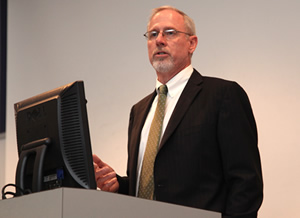 The future holds a role for natural gas, AGL Resources President and CEO John Somerhalder said during a Distinguished Leaders Series talk on Oct. 5.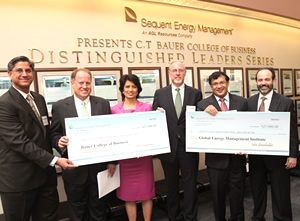 Prior to the DLS event, Sequent Energy presented Bauer College and the UH-Global Energy Management Institute with large checks for support of the college's energy programs.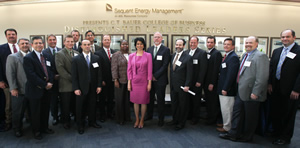 Energy Incubator. UH President Renu Khator, center, joined Bauer College students, faculty, administration, and Sequent and AGL senior executives. Pres. Khator shared updates on the university's commitment to energy research.
The Distinguished Leaders Series returned to Bauer College with a new energy focus as John W. Somerhalder, president and CEO of AGL Resources, took the stage to discuss the future of one of the country's greatest domestic energy resources, natural gas.
According to Somerhalder, natural gas performs on all four fronts that drive the direction of energy policy: national and energy security, affordability, potential for job stimulus and environmental impact.
"Natural gas has a better carbon footprint than other fossil fuels and is a secure, domestically produced product," Somerhalder said. "In almost every environmental scenario, there is a role for natural gas."
Somerhalder brings more than 30 years of experience in the natural gas industry to his role at AGL Resources an Atlanta-based company that markets natural gas through its Houston subsidiary, Sequent Energy Management. Sequent Energy Management is this year's sponsor of the Distinguished Leader Series.
Bauer supporters, professors and students were eager to hear Somerhalder's thoughts on the future of natural gas in the U.S., especially as proposed legislation urges industry in the direction of a carbon constrained future.
"Even in a zero-carbon world," he said, "natural gas would be the last thing to go. Through innovation, the end-use applications of natural gas are becoming more and more efficient and new technologies are constantly unlocking previously unavailable reserves."
UH System Chancellor and UH President Renu Khator applauded Somerhalder and Sequent's efforts to support Bauer College in becoming the type of energy focused institution that could lead that type of innovation. Through the work of partners and programs such as the UH-Global Energy Management Institute, Khator said, Bauer students are exceptionally equipped for the challenge.
"Bauer produces a real product that is trained. When trouble hits, Bauer graduates are not swayed by delusion or demoralized," she added.
"The University of Houston is committed to innovation and becoming an incubator of ideas. In the next three years you will see a hustle of activity as the university moves to the forefront of energy research. A big part of that movement will be our students – using the knowledge and creativity of our students to come up with ideas, and giving them their ideas the time and attention they deserve."
Sequent Energy presented Bauer with a $25,000 contribution to the UH-GEMI program at the event. The partnership grants Bauer students access to a variety of enriching experiences:
MBA class participated in green energy research project, bringing real, implementable ideas to Sequent Energy
Finance students are invited to walk the trade floor and get first-hand look at commodities trading in action
Students join Sequent in community service, including the Walk to Cure Diabetes
Sequent actively recruits Bauer students for internships and full-time positions
Somerhalder's talk was the first DLS of the year and will be followed on Oct. 15 by a DLS featuring Gal Luft, executive director for the Institute for the Analysis of Global Security (click here for more information).
Dr. Renu Khator reminded attendees of all the ways the University of Houston is committed to becoming an energy research university:
Nearly 100 acres are in-waiting for the expansion and development of UH's energy research park.
UH has built an energy advisory board comprised of top-executives from major energy companies, several of which are UH alumni.
More than 70 faculty members currently devote themselves to energy research projects with up to 150 committed to energy-related areas in the future.
A new wind research facility near Corpus Christi, Texas will test the blades used in wind energy farms.
Nearly $40 million in energy research funding is being pursued in the next four years from both government and industry sources.
Bauer College is shaping industry leaders through the UH Global Energy Management Institute
By Lori Reichardt
About the University of Houston
The University of Houston, Texas' premier metropolitan research and teaching institution, is home to more than 40 research centers and institutes and sponsors more than 300 partnerships with corporate, civic and governmental entities. UH, the most diverse research university in the country, stands at the forefront of education, research and service with more than 35,000 students.
About the Bauer College of Business
The C.T. Bauer College of Business has been in operation for more than 60 years at the University of Houston main campus. Through its five academic departments, the college offers a full-range of undergraduate, masters and doctoral degrees in business. The Bauer College is fully accredited by the AACSB International - the Association to Advance Collegiate Schools of Business. In August 2000, Houston business leader and philanthropist Charles T. (Ted) Bauer endowed the College of Business with a $40 million gift. In recognition of his generosity, the college was renamed the C.T. Bauer College of Business.