The Ticker
Contact: Jessica Robertson Navarro
Senior Communications Manager
UH SBDC Holds Reception for Silver Anniversary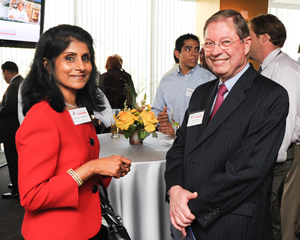 Bauer College Associate Dean for Programs and Administration Latha Ramchand, left, and UH SBDC Director Mike Young enjoy the reception to celebrate the 25th anniversary of the SBDC.
The University of Houston Small Business Development Center (UH SBDC) Network celebrated its 25th anniversary in October with a special reception at its Midtown Houston region office alongside friends, clients and dignitaries. With an attendance of more than 350, the event marked the significant impact the UH SBDC Network has had in creating jobs, saving jobs and obtaining small business start-up and expansion capital.
Houston's economy has also grown in the 25 years that the UH SBDC Network has been in existence, transitioning into a vibrant combination of major energy industry players, a growing technology sector, a world-renowned medical center and a focus on space science research with the presence of NASA's Johnson Space Center.
Established in 1984, the UH SBDC Network has grown alongside the City of Houston, from a center that served just over 1,000 consulting clients and training attendees in its first year of operation to a network of 15 centers, serving 32 Southeast Texas counties and providing assistance to 13,000 entrepreneurs and small business customers in the past year.
But the number of centers and customers only reflects the scope and reach of the Network's operation. The more telling statistics, from the annual impact studies, are that in the last three years, the UH SBDC Network helped clients access over $453 million in capital and create and retain over 20,000 jobs, which reflects a major impact on the Houston-area economy.
In celebration of its silver anniversary, the UH SBDC Network has held a series of events aimed at engaging the small business community. Over a period of three months, the UH SBDC Network hosted a free networking series called Fusion Fridays, merging education with networking giving participants the opportunity to mingle with some of Houston's brightest business owners. Approximately 500 attendees met and networked with other business owners in an effort to gain leads, increase awareness of their business and make contacts.
The SBDC Network has also created a series of $25 classes offered through December 2009 aimed at broadening business knowledge. Courses include: Starting a Business, Business Plan Basics, Making Sense of the Numbers, Creating a Marketing Plan. Register at www.sbdc.uh.edu.
If you are an entrepreneur and need assistance in creating actionable business plans, preparing loan packages, managing business expansion and securing financing or evaluating and improving marketing techniques call 713.752.8400, or visit www.sbdc.uh.edu to find out how the UH SBDC Network can help you achieve success.
By Kimberly Smith
About the University of Houston
The University of Houston, Texas' premier metropolitan research and teaching institution, is home to more than 40 research centers and institutes and sponsors more than 300 partnerships with corporate, civic and governmental entities. UH, the most diverse research university in the country, stands at the forefront of education, research and service with more than 35,000 students.
About the Bauer College of Business
The C.T. Bauer College of Business has been in operation for more than 60 years at the University of Houston main campus. Through its five academic departments, the college offers a full-range of undergraduate, masters and doctoral degrees in business. The Bauer College is fully accredited by the AACSB International - the Association to Advance Collegiate Schools of Business. In August 2000, Houston business leader and philanthropist Charles T. (Ted) Bauer endowed the College of Business with a $40 million gift. In recognition of his generosity, the college was renamed the C.T. Bauer College of Business.