The Ticker
Contact: Jessica Robertson Navarro
Senior Communications Manager
LINN Energy Chairman & CEO Holds Engaging Conversation before
Packed Auditorium in WCE Distinguished Entrepreneur Speaker Series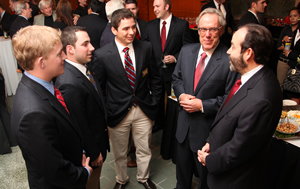 Wolff Center students had the opportunity to meet with Linn, second from right, and Bauer Dean Arthur Warga during a reception before the event.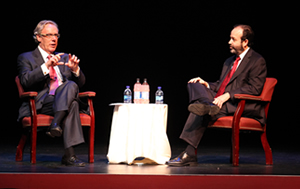 Houston is the energy capital of the world, LINN Energy Chairman and CEO Michael Linn said, in a Q&A with Bauer Dean Arthur Warga. View Inside Bauer Video
Speaking to a standing-room-only crowd in the University of Houston Cullen Performance Hall, LINN Energy Chairman and CEO Michael C. Linn cited the important role Houston will play in shaping the future of world energy.
Linn's visit to UH on Nov. 12 was part of the Distinguished Entrepreneur Speaker Series held by the Cyvia and Melvyn Wolff Center for Entrepreneurship at the C. T. Bauer College of Business.
The company, which ranks among the 25 largest independent oil and natural gas companies in the United States, is headquartered in Houston. The home office has about 200 employees, 35 of which are UH alumni.
"About 10 years ago, if you wanted to be in energy, you were in Dallas, Pittsburgh or another city," he said. "Today, if you want to be in energy, the industry is here in Houston. The talent and the people are here in Houston. If you want to be in oil and gas or energy, you need to be in Houston."
Bauer College Dean Arthur Warga joined Linn on stage during the event to facilitate a question-and-answer session that addressed industry concerns about the future of oil and natural gas as well as advice for young entrepreneurs.
"Networking is very important," Linn said. "You never know when you'll run into people who can help you or who you'll be able to help. I always have business cards with me." He illustrated his point by handing out those cards to everyone in attendance.
Entrepreneurs share a few common characteristics, he said. "If you have a fire in your belly, you want to do a little better than someone else, and that causes you to study harder and work harder than everyone else. One of the foundations of entrepreneurship is to want to do more and to find a better way of doing something."
Linn founded LINN Energy in 2003 after a brief career in law and more than two decades working in the oil and gas industry. The key to succeeding in business, he said, is finding the right field.
"I grew up in oil and gas (with my father's company in the Appalachian and Permian Basins) but I went into law at first," Linn said. "Use the life experiences you have; those experiences will give you insight others don't have. Do something you like. If you like what you're doing, the hours will disappear, and success will come."
For Linn, that success came quickly — in just six years, LINN Energy grew from a company with handful of natural gas wells and three employees into a publicly traded, multibillion dollar enterprise with more than 500 employees in offices across the country.
About the Distinguished Entrepreneur Speaker Series
The Distinguished Entrepreneur Speaker Series (DESS) was established to provide a forum where renowned guest speakers can share their experiences from the world of entrepreneurship with both students and the Houston community. The speakers usually share the obstacles and failures they have endured on the road to becoming successful entrepreneurs.
By Jessica Robertson
About the University of Houston
The University of Houston, Texas' premier metropolitan research and teaching institution, is home to more than 40 research centers and institutes and sponsors more than 300 partnerships with corporate, civic and governmental entities. UH, the most diverse research university in the country, stands at the forefront of education, research and service with more than 35,000 students.
About the Bauer College of Business
The C.T. Bauer College of Business has been in operation for more than 60 years at the University of Houston main campus. Through its five academic departments, the college offers a full-range of undergraduate, masters and doctoral degrees in business. The Bauer College is fully accredited by the AACSB International - the Association to Advance Collegiate Schools of Business. In August 2000, Houston business leader and philanthropist Charles T. (Ted) Bauer endowed the College of Business with a $40 million gift. In recognition of his generosity, the college was renamed the C.T. Bauer College of Business.