The Ticker
Contact: Jessica Robertson Navarro
Senior Communications Manager
C. T. Bauer College of Business, One of 15 MBA Programs Named To The Princeton Review's "Student Opinion Honors for Business Schools"
Honors Lists Salute Business Schools Receiving Highest Evaluations From Their MBA Students For Their Career Preparation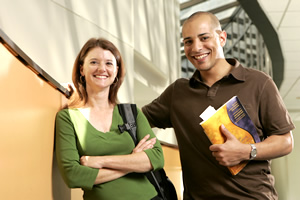 Bauer MBA students gave their experience high marks.
The C. T. Bauer College of Business is one of 15 graduate schools of business named to The Princeton Review's "Student Opinion Honors for Business Schools" in the General Management category, appearing in the April 2009 issue of Entrepreneur.
"One of the most important components of our MBA program is to ensure the best educational experience possible for our students," said Latha Ramchand, UH Bauer College Associate Dean for Programs and Administration. "The Princeton Review survey is driven by MBA student feedback and we are honored that our students rated us high. This ranking is a testament to the strength of our faculty and program. We are proud of both."
Current Executive MBA student Emily Dart, a Retail Point of Sale Category Manager for Hewlett-Packard, is emblematic of the many Bauer students who are enthusiastic about earning a Bauer MBA.
"My career is on a great trajectory," Dart said. "I turned to Bauer not to change paths, but to ensure I'm fully prepared to manage every aspect of a global business. What I've loved about Bauer is that from day one, there has been so much relevance in the courses to my day-to-day job. The return on investment is so real time, it's unbelievable."
The "Student Opinion Honors for Business Schools" were created and compiled by The Princeton Review, an education services company. The six categories include: Accounting, Finance, General Management, Global Management, Marketing, and Operations. Each list names the 15 graduate schools of business that were most highly rated by their students evaluating their MBA program's preparation in specific categories.
The business schools appear in alphabetical order on the lists, and are not ranked 1 to 15. In addition to appearing in the magazine, the lists are also posted at www.entrepreneur.com/topcolleges and www.princetonreview.com/studentOpinionHonors.aspx
The Princeton Review compiled the lists using data from its national survey of 19,000 MBA students attending 296 business schools profiled in its book, Best 296 Business Schools: 2009 Edition (Random House / Princeton Review, $22.95) published October 2008. The 80-question survey asked students to report on classroom and campus experiences at their schools and rate their MBA programs in several areas. The Princeton Review tallied the "Student Opinion Honors" lists based on students' assessments of how well (on a five-point scale) they felt their business school courses had prepared them to succeed in each of the six areas.
Said Robert Franek, VP-Publisher, Princeton Review, "For nearly 20 years, our company has gathered student opinions about colleges, law and b-schools to give applicants feedback they can't find elsewhere: what the schools' own customers think of them. We salute the business schools on these lists for the outstanding job they are doing both academically and professionally in preparing their students to apply their MBA training beyond the classroom to successful job searches and productive careers. We know this will be particularly meaningful to applicants and MBA grads in these challenging economic times."
Bauer's MBA program is well-regarded and was previously ranked the best evening MBA program in Houston by BusinessWeek. The Bauer MBA is home to more than 10,000 alumni, including several CEOs of S&P 500 companies.
About the University of Houston
The University of Houston, Texas' premier metropolitan research and teaching institution, is home to more than 40 research centers and institutes and sponsors more than 300 partnerships with corporate, civic and governmental entities. UH, the most diverse research university in the country, stands at the forefront of education, research and service with more than 35,000 students.
About the Bauer College of Business
The C.T. Bauer College of Business has been in operation for more than 60 years at the University of Houston main campus. Through its five academic departments, the college offers a full-range of undergraduate, masters and doctoral degrees in business. The Bauer College is fully accredited by the AACSB International - the Association to Advance Collegiate Schools of Business. In August 2000, Houston business leader and philanthropist Charles T. (Ted) Bauer endowed the College of Business with a $40 million gift. In recognition of his generosity, the college was renamed the C.T. Bauer College of Business.