The Ticker
Contact: Jessica Robertson Navarro
Senior Communications Manager
Compaq Co-Founder and Former CEO Shares Experiences With Students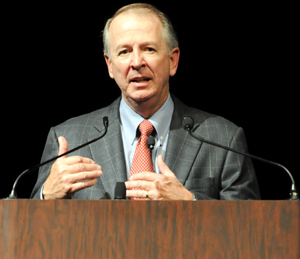 Successful entrepreneurs find opportunities in tough times, Compaq co-founder and former CEO Rod Canion (MEng '68) told the audience.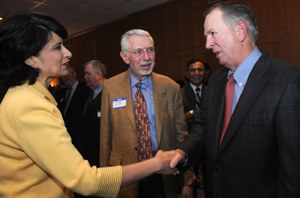 Wolff Center benefactor Melvyn Wolff ('53), center, introduced UH President and UH System Chancellor Renu Khator, left, to speaker Rod Canion during a reception held before the event.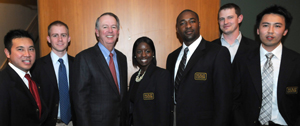 Rod Canion, third from left, networked with students from the Wolff Center for Entrepreneurship before his speech.
It pays to take risks in the business world, Compaq Computers co-founder and former CEO Rod Canion (MEng '68) told students from the University of Houston C. T. Bauer College of Business.
Canion advised students to take chances and make their own luck when they begin their careers, recalling his experiences with Compaq during the Distinguished Entrepreneur Speaker Series held by the Cyvia and Melvyn Wolff Center for Entrepreneurship in March.
"What I remember is, 'Boy, that was exciting, and I was lucky to be there,'" he told students. "We made a lot of our luck. We worked hard to get that luck and take advantage of that luck."
Wolff Center Director Daniel Steppe called Canion "an entrepreneurial hero." Founded in 1982, Compaq Computers was started in Houston, one of the few companies outside Silicon Valley to produce computer products.
"I look at starting a business as an exercise in probability," Canion said. "It was very, very exciting for company of Houston…which is not exactly a Mecca of high tech."
The first office he used to headquarter Compaq had very little office furniture and employees used folding chairs to sit. "You start out with whatever you can get," he said.
During his tenure with Compaq, the company expanded to become ranked third in the computer industry. "The Internet is the thing today," Canion said. "You couldn't do that if that phenomenon didn't occur in the 80s."
As a UH student, Canion said that when he first saw a computer, he understood its potential as a technological necessity. "I immediately recognized it would change the world," he said.
Compaq created some of the first portable computers, which underwent changes through the years to become smaller and more functional.
"Everybody looked at them as if they were toys," he said of the early computers. "When I saw a spreadsheet, I knew the world was going to change."
Canion advised students to see opportunities when others see challenges and told them not to be discouraged by the economic downturn. "It's a really difficult time to get started, and there may not be a better time," he said. "Sometimes, in tough times, you're going to find opportunities."
By Mayra Cruz
About the University of Houston
The University of Houston, Texas' premier metropolitan research and teaching institution, is home to more than 40 research centers and institutes and sponsors more than 300 partnerships with corporate, civic and governmental entities. UH, the most diverse research university in the country, stands at the forefront of education, research and service with more than 35,000 students.
About the Bauer College of Business
The C.T. Bauer College of Business has been in operation for more than 60 years at the University of Houston main campus. Through its five academic departments, the college offers a full-range of undergraduate, masters and doctoral degrees in business. The Bauer College is fully accredited by the AACSB International - the Association to Advance Collegiate Schools of Business. In August 2000, Houston business leader and philanthropist Charles T. (Ted) Bauer endowed the College of Business with a $40 million gift. In recognition of his generosity, the college was renamed the C.T. Bauer College of Business.