The Ticker
Contact: Jessica Robertson Navarro
Senior Communications Manager
UH Bauer Student Selected for National PwC Leadership Summer Camp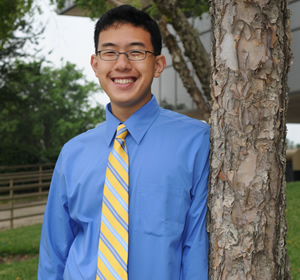 Accounting junior Evan Leung plans to enhance the leadership skills he's cultivated at UH Bauer during a summer program with PricewaterhouseCoopers.
Accounting junior Evan Leung plans to spend his summer fueling his leadership skills with 200 other student leaders from around the country, courtesy of one of the nation's Big Four accounting firms.
In July, he will be the University of Houston Bauer College of Business representative at the PricewaterhouseCoopers Leadership Adventure, a two-day program where students learn how to put leadership into practice.
The program is designed to complement what students learn in the classroom and to help them prepare for starting a career in accounting. "This event will help me understand the field of accounting by expanding on what I've learned in college courses," Leung said. "It will provide hands-on experience working with motivated students and experienced representatives of PwC, in order to develop my leadership and teamwork abilities and achieve a better understanding of the accounting field."
The event will be held in Chicago in late July. Participants will have the opportunity to challenge themselves in a community service event, workshops and other activities that are designed to build their capacity and proficiency as leaders.
Leung said he hopes to gain a better understanding of PwC as a company as well as learn more about the field of public accounting. The program will also give him a chance to strengthen his skills as both a leader and a team player, as he works with his peers from across the country, he added.
"To be selected is to know that all the work I have put into these last two years of college has led to something good," Leung said. "It is a result of taking the extra step to do more than what is required of me, whether it's attending a Tax Career seminar, taking a few summer classes so I can take a on a minor, or spending an extra hour to study for a test even though I know I'm prepared."
When he returns to UH Bauer in the fall, Leung plans to put his leadership skills into practice with the Accounting Society and Delta Sigma Pi. His long-term goals include getting a master's degree and a CPA, and he hopes to begin a career in accounting with one of the Big Four accounting firms or a leading Fortune 500 company.
"For myself, and for the many other individuals who worked hard for this opportunity and were selected, the experience will serve as the first step into the field of public accounting and possibly a career with PwC," Leung said.
By Hannah Eastham
About the University of Houston
The University of Houston, Texas' premier metropolitan research and teaching institution, is home to more than 40 research centers and institutes and sponsors more than 300 partnerships with corporate, civic and governmental entities. UH, the most diverse research university in the country, stands at the forefront of education, research and service with more than 35,000 students.
About the Bauer College of Business
The C.T. Bauer College of Business has been in operation for more than 60 years at the University of Houston main campus. Through its five academic departments, the college offers a full-range of undergraduate, masters and doctoral degrees in business. The Bauer College is fully accredited by the AACSB International - the Association to Advance Collegiate Schools of Business. In August 2000, Houston business leader and philanthropist Charles T. (Ted) Bauer endowed the College of Business with a $40 million gift. In recognition of his generosity, the college was renamed the C.T. Bauer College of Business.