The Ticker
Contact: Jessica Robertson Navarro
Senior Communications Manager
UH Bauer Hosts Kickoff Event for Game of Real Life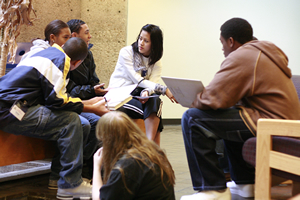 Finance and accounting junior Kim Pham, center, mentors a group of Houston-area high school students during the January kickoff of the Game of Real Life, a program that encourages teenagers to pursue a college education.
High school students are getting a taste of life in the real world with the help of the C. T. Bauer College of Business. In January, the college hosted the kickoff event for the Game of Real Life, a program that gives Houston-area teenagers the opportunity to test themselves with life after high school.
Created by Skills for Living, a non-profit organization that mentors high school students across the city, the Game of Real Life puts participants in the shoes of 19-year-old high school graduates who must choose to either further their education or go straight into the workforce, and make decisions about having children, getting married and buying new homes.
A main goal of the program, Skills for Living founder Lorraine Decker said, is to encourage students to attend college after graduating from high school and to help them decide on a career path based on their interests.
UH Bauer students, faculty and alumni volunteered for the kickoff event, providing insight and guidance to over 50 high school students from various neighboring school districts. For alumna Holly Luong (BBA '94, MBA '04), the partnership between UH Bauer and Skills for Living makes perfect sense.
"Bauer College offers a real-life, hands-on education experience to our students, and that is exactly what the Game of Real Life does, too — but with high school students," added Luong, a solutions consultant for HP.
The program teaches participants about financial, career and college planning, which are necessary skills, she said. "Training for these students culminates in a 16-hour experiential, reality simulation game where they work, attend college, rent apartments, pay bills, complete tax returns and engage in 'real life,'" Luong said.
The event also serves as a means to introduce Houston-area high school students to the University of Houston and Bauer College, said Assistant Dean of Undergraduate Business Programs Frank Kelley. "The students who participate in the Game of Real Life learn about Bauer and UH by being on campus and interacting with our students," he added. "When students are applying to college, they are attracted to a school that provides leadership and service opportunities to add value to their degrees and for them to develop as leaders."
By Mayra Cruz
About the University of Houston
The University of Houston, Texas' premier metropolitan research and teaching institution, is home to more than 40 research centers and institutes and sponsors more than 300 partnerships with corporate, civic and governmental entities. UH, the most diverse research university in the country, stands at the forefront of education, research and service with more than 35,000 students.
About the Bauer College of Business
The C.T. Bauer College of Business has been in operation for more than 60 years at the University of Houston main campus. Through its five academic departments, the college offers a full-range of undergraduate, masters and doctoral degrees in business. The Bauer College is fully accredited by the AACSB International - the Association to Advance Collegiate Schools of Business. In August 2000, Houston business leader and philanthropist Charles T. (Ted) Bauer endowed the College of Business with a $40 million gift. In recognition of his generosity, the college was renamed the C.T. Bauer College of Business.