The Ticker
Contact: Jessica Robertson Navarro
Senior Communications Manager
UH Bauer Hosts CME Commodities Trading Challenge for 5th Year
Teams from Leading Business Schools Around U.S. Converge at Bauer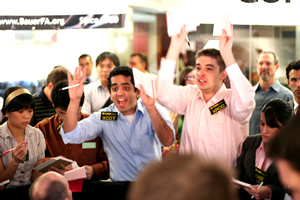 Melcher Hall transformed into a frantic, simulated trading floor during the CME Group Commodities Trading Challenge in February.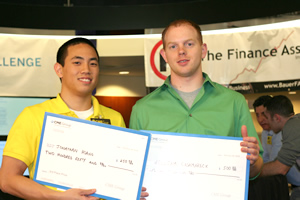 UH Bauer students finished strong in the competition, with pre-business sophomore Jonathan Hoang, left, placing third and finance junior William Cashmarek placing second.
The heart-pumping trading floor included shouting students, elaborate hand signals and minute-by-minute deals as the UH Bauer College of Business Finance Association hosted the annual Open Outcry Challenge on February 28 in Melcher Hall.
The Open Outcry Challenge is phase two of the Chicago Mercantile Exchange Group Commodities Trading Challenge and has been a mainstay at Bauer College for five years. Bauer students competed with students from 30 schools, including the University of Pennsylvania, the University of Virginia, MIT, Columbia University, the University of Texas, University of California, Berkeley, and New York University.
UH Bauer students were recognized for their strong performances in the competition with finance junior William Cashmareck placing second and pre-business sophomore Jonathan Hoang taking third place. University of Texas finance senior Andrew Smith placed first.
"This is the third year that I participated in the open outcry and it is always a great experience and is my favorite event that our student organization participates in," Smith said. "I came in 7th in previous years. This year, I felt that I had a chance to win from the first round as I was executing all my orders with no problem and was making profits trading on my own account."
Competitors had to prove their trading skills in a simulated market that reflected real-life for CME traders and execute their customer's orders as best as possible. "We are very committed to this competition," CME Director of Market Education Kate Darcy said. "We are committed to growing it, the electronic competition and the open outcry."
UH Bauer students were able to sharpen their skills before the competition in a workshop organized by the college's Finance Association. "The main purpose of these competitions is to provide students the experience of learning how an equity trader and risk manager would trade in the real world," said Hoang, promotions officer for UH FA. "The Finance Association provides these trading competitions to its members and to students all across the country to introduce them to a full spectrum of the trading experience.
"I had the time of my life in this competition," Hoang said. "I was able to put what I learned in our workshops in an arena that tested my skills. Meeting everybody from all the different schools that shared the same mindset is an experience that can't easily be gained anywhere else."
During phase one of the competition, teams were given $100,000 to trade crude oil and gold futures. The teams used charting and trading platforms provided by CME, and the teams with the highest account balance will advance to a national competition.
"The top 15 contestants (of the Open Outcry competition) were awarded with scholarship prizes and the top winner with the top scholarship prize and trophy," Hoang said. "Students were able to submit their resumes, which will be looked at by many of our corporate sponsors such as BP, Shell, Citi and Conoco Philips."
Bauer students have claimed the top prize in the Open Outcry competition for the past two years. In 2008, Ana Lucia Chaverria placed first and received a coveted, all-expenses paid internship with the New York Mercantile Exchange, which has sponsored the competition in previous years.
For more information about the CME Group Commodities Trading Challenge, visit http://student-web.bauer.uh.edu/fa.
To see a video from previous outcry competitions, click here.
By Hannah Eastham
About the University of Houston
The University of Houston, Texas' premier metropolitan research and teaching institution, is home to more than 40 research centers and institutes and sponsors more than 300 partnerships with corporate, civic and governmental entities. UH, the most diverse research university in the country, stands at the forefront of education, research and service with more than 35,000 students.
About the Bauer College of Business
The C.T. Bauer College of Business has been in operation for more than 60 years at the University of Houston main campus. Through its five academic departments, the college offers a full-range of undergraduate, masters and doctoral degrees in business. The Bauer College is fully accredited by the AACSB International - the Association to Advance Collegiate Schools of Business. In August 2000, Houston business leader and philanthropist Charles T. (Ted) Bauer endowed the College of Business with a $40 million gift. In recognition of his generosity, the college was renamed the C.T. Bauer College of Business.