The Ticker
Contact: Jessica Robertson Navarro
Senior Communications Manager
Faculty Study Finds Backdating More Widespread Than Initially Thought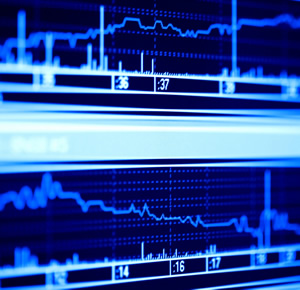 Whisenant and Edelson's study provided background for a prominent article in the August 18, 2009, issue of The Wall Street Journal.
Two researchers from the University of Houston C. T. Bauer College of Business have identified 141 companies that are likely to have improperly backdated stock options. The researchers also determined that most have not been caught by regulators or confessed to the practice.
Accountancy & Taxation Associate Professor Scott Whisenant and Visiting Scholar Rick Edelson, authors of the study, reported their findings to the Securities and Exchange Commission several months ago, providing a preliminary list of suspected companies. The findings were reported recently by The Wall Street Journal, leading to a flurry of media interest from around the world.
Edelson said the two "do not provide any legal or categorical proof that any specific company engaged in backdating, but at a statistical level, we can say with a very high confidence that a company did commit backdating."
Companies are thought to have backdated if they exhibited a pattern of granting stock options at abnormally favorable times over a period of time. While previous studies looked at the probability of backdating for large samples of companies, the UH Bauer study, which looked at 4,000 publicly traded companies, is the first to cite individual companies, Edelman said. (The researchers will not disclose those names).
While accounting rule changes due to Sarbanes-Oxley, a federal law enacted in 2002, may have eliminated most backdating practices, the results of the study are still quite relevant to shareholders and others, Whisenant said.
"Some options are five-, seven, or 10- year options. So many of these companies are starting to vest into those options today and those amounts are in the millions and millions of dollars…We believe the wealth transfer from stockholders for many of the these companies is about to or has just recently begun taking place," he said.
Edelson adds: "These folks, even if they've stopped or curtailed backdating, are still in many cases running these companies." That may put those companies at risk for other kinds of fraud or mismanagement."
Similar findings three years ago sparked a wave of investigations and indictments by the SEC and Justice Department.
The two Bauer researchers are currently at work on another study which could pinpoint the source of backdating even more precisely – identifying individuals at companies who are likely to have backdated. They are also exploring the use of their statistical method in connection with other types of corporate fraud.
For more information, read the article published in the August 18, 2009, issue of The Wall Street Journal or view the complete study.
By Julie Bonnin
About the University of Houston
The University of Houston, Texas' premier metropolitan research and teaching institution, is home to more than 40 research centers and institutes and sponsors more than 300 partnerships with corporate, civic and governmental entities. UH, the most diverse research university in the country, stands at the forefront of education, research and service with more than 35,000 students.
About the Bauer College of Business
The C.T. Bauer College of Business has been in operation for more than 60 years at the University of Houston main campus. Through its five academic departments, the college offers a full-range of undergraduate, masters and doctoral degrees in business. The Bauer College is fully accredited by the AACSB International - the Association to Advance Collegiate Schools of Business. In August 2000, Houston business leader and philanthropist Charles T. (Ted) Bauer endowed the College of Business with a $40 million gift. In recognition of his generosity, the college was renamed the C.T. Bauer College of Business.