The Ticker
Contact: Jessica Robertson Navarro
Senior Communications Manager
Executives from China's Largest Oil and Gas Producer and Supplier Travel
to Houston to Receive Global Energy Executive MBA Degrees from UH Bauer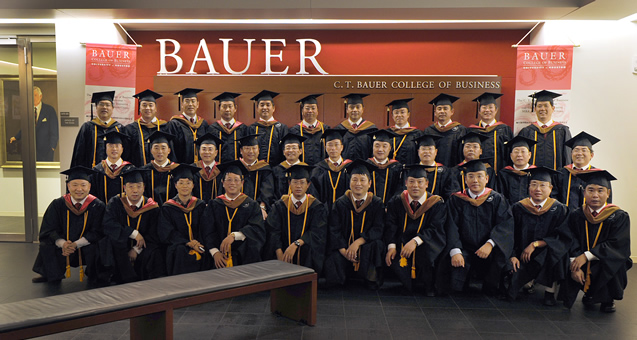 A group of employees from China National Petroleum Corporation, one of China's largest energy companies, traveled to Houston in August to finish classes at UH Bauer and receive their Global Energy Executive MBAs.
Senior executives from one of China's largest energy companies traveled from Beijing to receive their Global Energy Executive MBA degrees from the University of Houston C. T. Bauer College of Business program in late August.
After completing the bulk of their coursework in Beijing with Bauer instructors, senior executives from China National Petroleum Corporation (CNPC) finished up classes at Bauer, and then graduated in a ceremony presided over by Jerald Strickland, Assistant Vice Chancellor for International Studies, who is also a former UH Provost, and Bauer Dean Arthur Warga. The ceremony took place at the UH Hilton on Aug. 21, 2009.
"Today you begin a new journey with pride and confidence that only comes with wearing the university colors," Strickland told the students. "You will join more than 200,000 alumni and begin to make your mark on the world as global leaders in your chosen field."
Warga told the group that UH Bauer is honored to have had "some very significant members of China's energy companies come through our program…We want you to know that while you are no longer students, you will always be part of the Bauer College and the University of Houston Bauer College alumni."
The students are among 177 students from CNPC and energy giant Sinopec who have completed the GEMBA program since it began two years ago, Sinopec graduates will travel to Houston in September to receive their degrees. Bauer is exploring the possibility of launching a similar MBA program for energy executives in Mumbai, India.
GEMBA Director and Assistant Dean Daniel Currie said tremendous growth, coupled with a shortage of Western-style management expertise has driven demand for Bauer's program overseas.
"It's not that they don't have quality managers, but they don't have enough of them to manage and envision all the growth going on," he said.
Relationships forged through the program have benefited students, many of whom have earned promotions since graduating with MBAs. But the benefits are reciprocal, Currie said.
"There are certain intangible benefits in engaging internationally that you can't quantify. But our faculty benefit from getting a broader worldview while in China. They're better off when they come back into Houston and that has benefits that flow back into our classrooms," Currie said.
The importance of reaching out to China's corporate decision-makers in the energy sector was underscored in July, when U.S. Cabinet members traveled to China and announced the creation of a U.S.-China Clean Energy Research Center.
In Houston, Beijing students enjoyed a reception in their honor where they presented Warga with a silk-embroidered portrait of their graduating class.
"It is our great pleasure to come to Houston," said Dongjin Wang, a CNPC vice president in charge of operations in 29 countries. "For all of us there is one dream, one place. We expected to come to the biggest oil city in the world, but most importantly, we are here now, at our university." CNPC has over a million employees and is perhaps the largest corporation in the world.
At an earlier gathering, Wang invited fellow Cougars to drop by when they are in the Far East. "No matter where you are in China, you can always find your alums in CNPC!" he said.
By Julie Bonnin
About the University of Houston
The University of Houston, Texas' premier metropolitan research and teaching institution, is home to more than 40 research centers and institutes and sponsors more than 300 partnerships with corporate, civic and governmental entities. UH, the most diverse research university in the country, stands at the forefront of education, research and service with more than 35,000 students.
About the Bauer College of Business
The C.T. Bauer College of Business has been in operation for more than 60 years at the University of Houston main campus. Through its five academic departments, the college offers a full-range of undergraduate, masters and doctoral degrees in business. The Bauer College is fully accredited by the AACSB International - the Association to Advance Collegiate Schools of Business. In August 2000, Houston business leader and philanthropist Charles T. (Ted) Bauer endowed the College of Business with a $40 million gift. In recognition of his generosity, the college was renamed the C.T. Bauer College of Business.