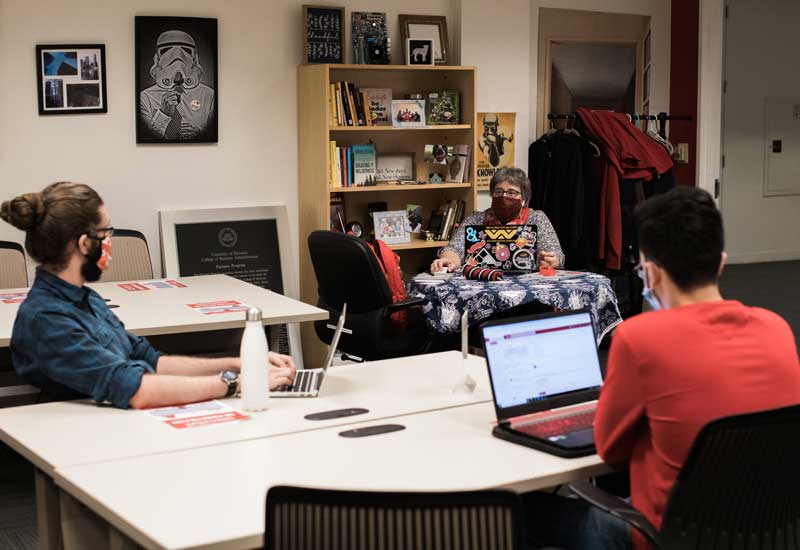 With a requirement to transition all courses online this spring, due to the COVID-19 pandemic, Bauer College's newly formed Office of Digital Learning worked together to provide students and faculty with ample resources.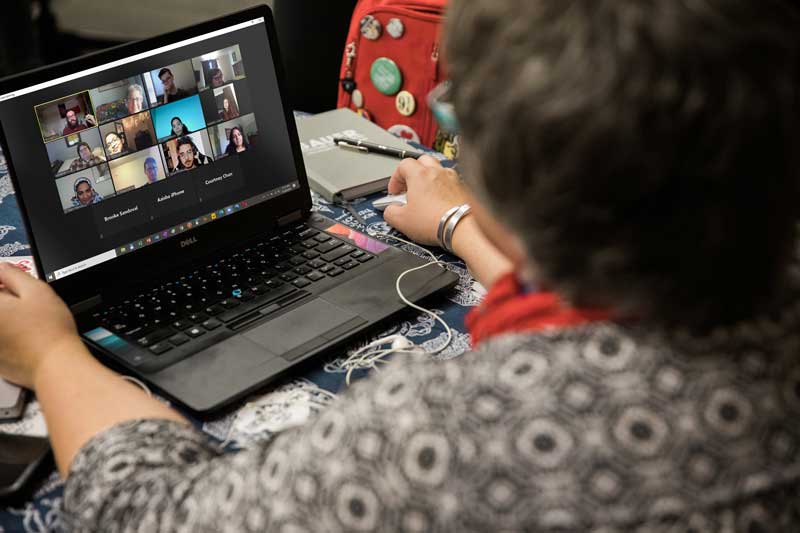 Programs
A Digital Dream Team
"You Can Go It Alone, But You Don't Have To!," According to Bauer Director of Digital Learning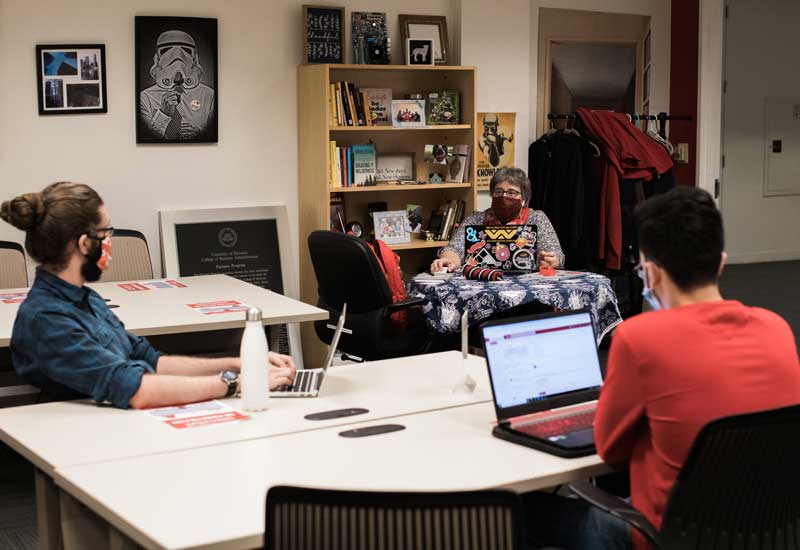 With a requirement to transition all courses online this spring, due to the COVID-19 pandemic, Bauer College's newly formed Office of Digital Learning worked together to provide students and faculty with ample resources.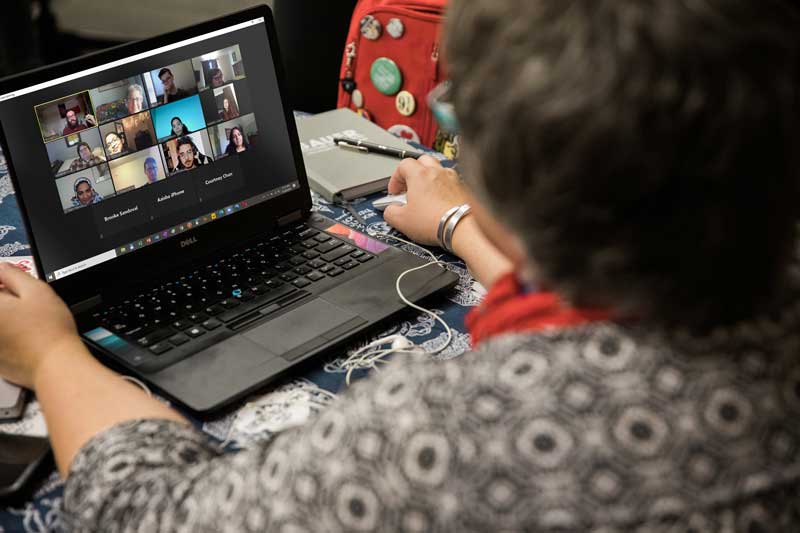 This time last year I spent most of my time after class in Melcher Hall 131, our fabulous and much used Tutoring Lab, chatting with students and Academic Support Assistants about our open data projects, upcoming assignments, or whatever Audible, Netflix, or the library had to offer.
We would check on the Accounting, Finance and Statistics labs on our hallway to see how they were fairing. Faculty and staff would stop by: sometimes looking for a dry erase marker, sometimes for a cookie, often for a chat about Brené Brown's Braving the Wilderness — our favorite then, now and forever.
Faculty, staff, and students worked in shared spaces with dozens of Academic Support, Instructional and Teaching Assistants sharing in responsibilities to our students and our College making sure that Bauer is ... Where Awesome Happens!
A lot has changed in the last nine months (and counting). However, the perseverance and commitment of our student workers to our college and its students, staff, and faculty has remained the same. While our shared spaces have migrated to virtual ones, our students' commitment remains the same as it was in our classrooms, online Tutoring Labs, virtual offices, and other online meeting spaces.
Our undergraduate and graduate student workers have been instrumental in supporting faculty, staff and students since the middle of March through the remote emergency teaching. Back then, what feels like half a lifetime ago, Zoom and Teams may have been new to some faculty and staff, but many of our student workers were already old hands at these tools from past classes, internships, student organizations, or from personal interest.
Their ability to work with all stakeholders allowed our classes, Tutoring Labs, and the newly formed Office of Digital Learning, to increase its reach with great speed. In collaboration with Bauer's Instructional Designer, David Del Pino Kloques, who brought two decades of online teaching and learning experience to our College, our student workers quickly developed documents, assisted faculty in trainings, and supported the day-to-day instructional technology needs of our College.
Our student workers quickly developed documents, assisted faculty in trainings, and supported the day-to-day instructional technology needs of our College.
David trained our "Fantastic Four" graduate Instructional Assistants Brenda Benitez Franco (Marketing MS, 2022), Rima Shah (MBA with concentration in Human Resources, Spring 2022), Musab Ahmad (Business Analytics MS, 2022), and Sourya Sarthak Reddy Sane (Business Analytics MS, 2021) to work with Respondus and Blackboard, with additional Zoom, Teams and MS Stream duties.
The office's graduate students have worked with faculty from multiple departments and have "become a great asset in improving the Bauer community user experience for both faculty and students. They are giving back to our community by making innovative learning technologies more attainable for faculty and students," Del Pino Kloques said.
Senior Professor of Practice John Lopez praised the grads: "[they were] amazing! Very dedicated and diligent in assisting with the testing process in Blackboard. I could not have done this without them!"
All our student workers took the fast-paced transition in stride and became experts on Zoom, Teams, Blackboard, Respondus, Accessibility features and more, to assist faculty as part of the Office of Digital Learning. Senior Professor of Practice Amy Vandaveer-Novak complimented Management Information Systems sophomore Joumana Senouci for her work in ensuring that mock interviews and personal branding classes went seamlessly. Supply Chain Management senior Senja Elena Rohaizad, Supply Chain Management and Management Information Systems junior Courtney Chan, and Management Information Systems junior Shreya Agrawal, assisted faculty in multiple departments in making course materials accessible for those with diverse learning needs and added interactive features to online content using Office 365 tools.
Sophomore Cole Taylor, a future Management Information Systems major, leads our in-house video editing efforts where a rotating team of 12 has spent hundreds of hours editing and transcribing videos to fit cognitive and accessibility principles related to instructional strategies promoted by the Office of Digital Learning.
"I see this work as a chance to grow my own skillset and knowledge for future jobs in the workforce," he said. "I also see this work as a chance to help contribute and help Bauer College grow, even if it's only in small contribution."
Sorosh Malekzad, a true Renaissance man and Management Information Systems sophomore served our Business Computer Information Systems students in the classroom and online as a UH Libraries Digital Research Commons grant worker in the Spring on our College Historical Records project, an Office of Digital Learning intern in the Summer where he was instrumental in creating documentation for a wide range of applications for faculty and students, and a Cougar Initiative to Engage a grant worker in the Fall for experiential learning projects. His work has been indispensable in making sure that all programs he supported worked as smoothly as possible. Sorosh made the finals of this year's exCITE Talks where he discussed how he grew from his eclectic experiences and will continue to work with faculty, staff, and students next year.
Dr. Anne Dayton, Director of the Cougar Initiative to Engage applauded Sorosh and his colleagues Noemi Camarena, Uzma Masood, Kiana Aklaghi, Gabrielle Boado, and Hector Gonzalez: "We are pleased to support the innovative service learning program in BCIS 1305 with a CITE grant. The Undergraduate Project Coordinators made it possible for Dr. Felvégi to provide over 1,800 students with a co-curricular experience in 2020."
Many student workers from the Office of Digital Learning have since transitioned into leadership roles with student organizations or have taken internships. Kudos to Management Information Systems students Michael Zhu, Neel Amin and Esther Adaramola for their evolving roles with MISSO (the MIS Student Organization), and to Management Information Systems and Finance junior Lydia Martinez who is active in her student org and also has an internship lined up for 2021. Thank you, Brooke Sandoval, Luis Silva, Aaisha Sigh and Elizabeth Sells for your work, good luck with your new projects!
A Graduating Rock Star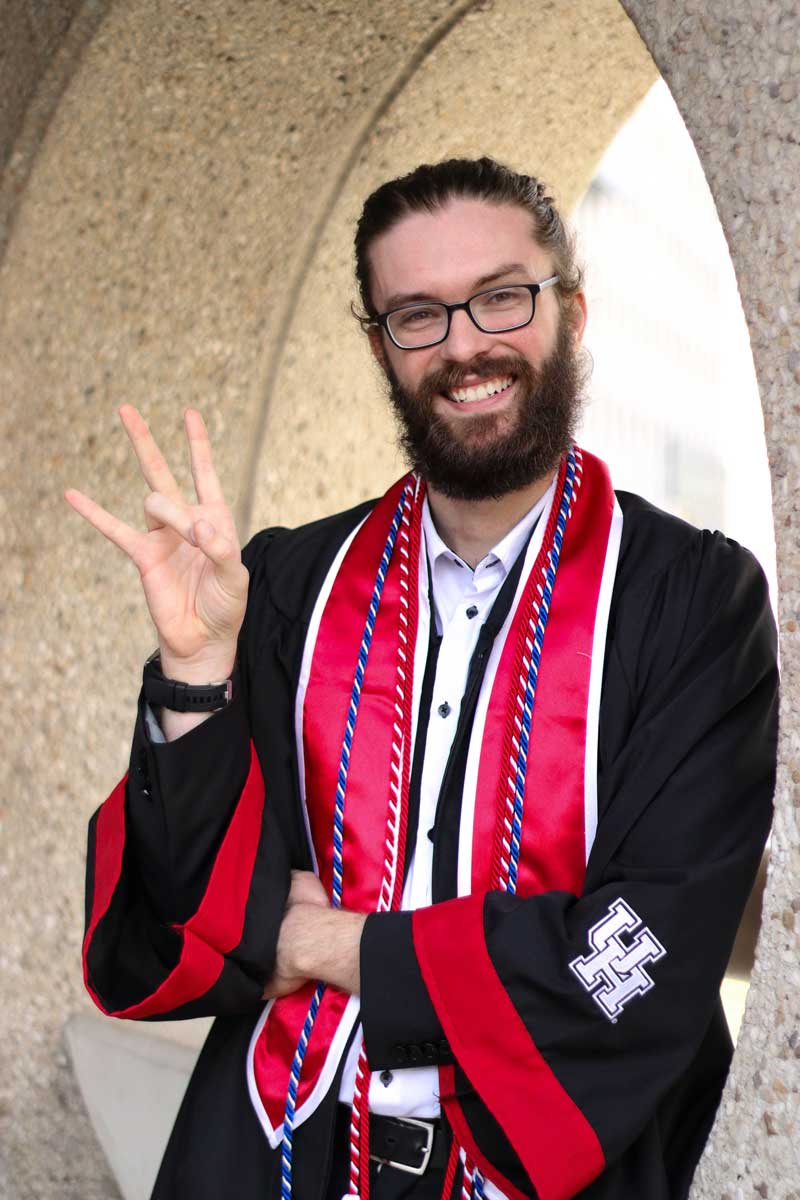 Photo by Shelby Coleman (BBA '19)
Michael Fulfs is a graduating marketing senior.
Graduating marketing senior, and all-around rock star, Michael Fulfs wore many hats during his career at Bauer. He served as an officer in the American Marketing Association student organization, was a welcome motivational speaker for undergraduates, volunteered and then lead a multi-year experiential learning industry project, worked with both Rockwell Career Services and with the Office of Digital Learning.
Assistant Dean for Career and Industry Engagement Jamie Belinne praised Michael for being "a natural leader. From the creative problem-solving he brought to his work with the Rockwell Career Center to the calm and focused leadership he demonstrated in his work with the Kellogg's projects, he is the type of student that exemplifies Ted Bauer's dream for our college."
As part of the Office of Digital Learning, Michael played a crucial role "during our Association to Advance Collegiate Schools of Business (AACSB) reaccreditation virtual visit in early October," says Assistant Dean of Strategic Initiatives Roger Barascout. "From the visiting team's perspective, the Bauer College hosted a seamless and very successful four-day visit, and internally, I knew we would be able to solve any problem thanks to the professionalism and knowledge of Michael and his colleague Avani Shah, who set the precedent of who we are as a college and the excellence we aim for."
Michael Fulfs graduates this winter and is an incoming Sales Representative at The Kellogg Company; he will be dearly missed by everyone he's worked with.
Tutoring Services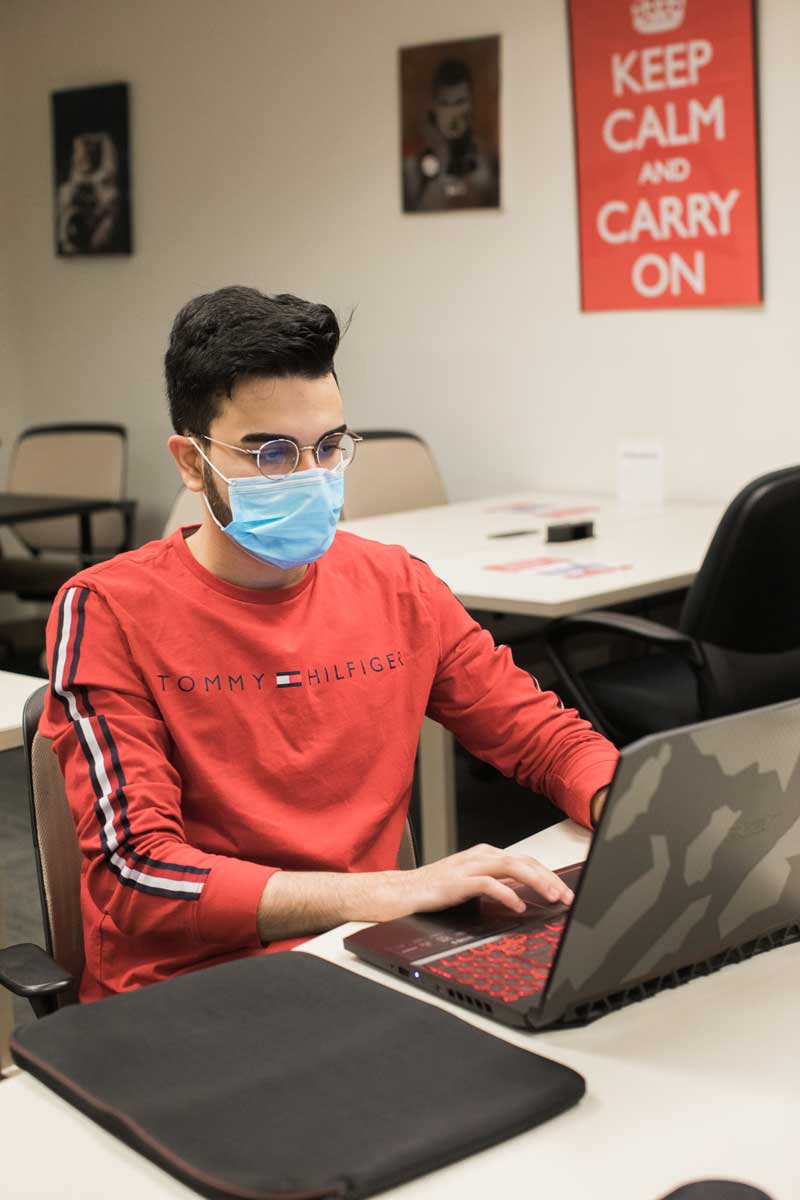 In March, our traditionally face-to-face tutoring services migrated to virtual spaces overnight. The Accounting, Finance, Statistics, and Business Computer Information Systems labs offered tutoring via Zoom and email to thousands of students enrolled in these mass section classes. Student workers in this domain come from diverse backgrounds and each semester departments hire from a large pool of well qualified individuals to work with our students and faculty.
The Accounting Tutoring Lab transitioned to fully online in the Spring.
"We have some of the best and brightest graduate students with positions waiting for them at Top Tier Accounting Firms and elite corporations assisting students in our Virtual Tutoring Lab and during office hours," said Mary Sykes, Senior Professor of Practice and Faculty Director of Instructional Assistants. "These students are sharing their academic experiences and offer crucial services to students in a digital environment."
Darla Chisholm, Adjunct Faculty in Finance highlighted graduating senior Hannah Hogan as an invaluable asset in "transitioning to online learning by applying her exceptional skills to whatever was needed from video editing to developing scheduling methods for online meetings."
Senior Professor of Practice Staci Patterson from the Department of Decision & Information Sciences shared her appreciation for her tutors, Tim Su, Joshua Shen, Adi Shankar, Vy Tran, Naomi Zavala, Katherine Pham, and Vivian Pham.
"I love [the student workers'] teamwork, dedication, hard work, and genuine desire to see the statistics students in BUSI 2305 and STAT 3331 succeed," Patterson said. "I smile proudly when students tell me that the tutors' positive attitude, patience, and creative ways of explaining statistical concepts (including making their own STAT tutoring videos available) have been invaluable to encourage, motivate, and help them in statistics."
As for myself, I would like to offer heartfelt thanks and eternal gratitude to MIS 3300 and BCIS 1305 ASAs Michelle Tamez, Thanh Tran, Abby Chopra and Shubhangi Kedia, and to Uzma Masood and Noemi Camarena for their work and contributions for CITE during these challenging times.
Please stay tuned for updates on the work of the Office of Digital Learning via our website, and keep an eye out for the outstanding work of Robert McCarn, Caleb Omlin, and Madeline Zaiontz as part of our college's lifelong learning engagement projects.
To all our student workers, past, present, and future, we are thankful for your perseverance, accomplishments, and your service!