Graduate and Professional Programs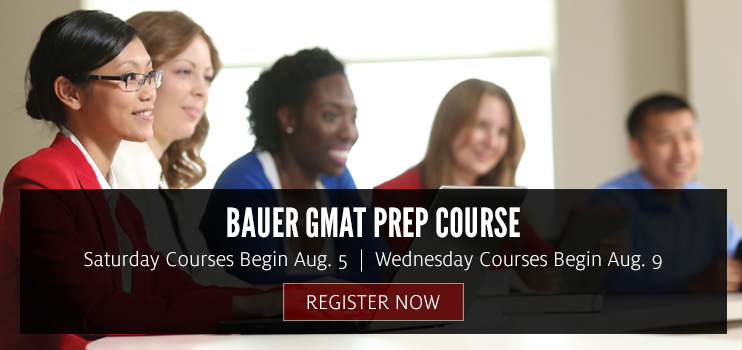 Bauer GMAT Prep Course Overview
Upcoming Course Schedules
Saturdays, 10 a.m - 1:30 p.m. August 5 - September 30
Wednesdays, 6 - 9:30 p.m. August 9 - September 27
Join our mailing list to stay up to date.
Top Reasons to Choose Bauer's GMAT Prep Program:
Face to Face Course Taught by Academic Faculty from a Tier 1 University
Eight 3-Hour Class Sessions (24 Total Classroom Hours)
Guest Speakers
Classes Held on the University of Houston Campus
Bauer Application Fee Waived for up to 1 Year After Course Completion.
Bauer Application Assistance Available to Prep Students.
GMAT Prep Course Materials Include, "The Premium GMAT® Study Collection" from GMAC and "Bauer GMAT Prep Manual" written by Dr. Gary Cohen & Johnathan Raymon.
2,000 + Practice Questions and Full-Length Practice Exams from GMAC with Score Reports.

Total Cost: $650
See Also:
As a Bauer MBA student, you will have access to a wide array of developmental, job search, networking and recruitment opportunities— coupled with career guidance from experienced and well-respected career specialists.
The Rockwell Career Center has an entire team of specialists who work exclusively with Bauer MBA students for professional development services.