Rockwell Career Center
The Bauer Career Gateway
Bauer students and alumni may access job postings, internships, information sessions, career fairs and workshops specifically for Bauer business majors through the Bauer Career Gateway. Access is easy, simply login using your CougarNet ID. If you do not know your CougarNet ID click here to retrieve this information. Any questions or additional assistance with the Gateway contact the Rockwell Career Center.
MBA Focus for Alumni
Submit your resume to this featured online Alumni MBA Resume Book. MBA Focus is a premier recruitment tool that will provide you with a valuable opportunity to market your experience through a featured online resume book. Resume books will be provided to local and national recruiters representing top ranked corporations. MBA Focus also includes a job board of exclusive national positions.
On-Campus Recruiting Orientation
On-Campus Recruiting (OCR) is a program that allows alumni and students to interview with employers on-campus for full-time positions. To be considered for an interview opportunity, alumni and students must indicate their interest by submitting their resume online via the Bauer Career Gateway system. To learn more about how the On-Campus Recruiting program works, please review the short On-Campus Recruiting Orientation (2 sections, each about 4 minutes).
NOTE: Alumni and students are strongly encouraged to complete this orientation to fully understand how the On-Campus Recruiting program works.
For more information, please contact us at hirebauer@uh.edu or 832-842-6120.
University Career Services
In addition, on-campus recruiting opportunities, job postings, internships, part-time jobs, information sessions and student employment opportunities for all University of Houston students and alumni can be accessed through University Career Services.
NOTE: You are required to complete the CRW (Campus Recruitment Workshop) once a year in order to interview through the University Career Services office.
Volunteerism
Seeking additional experience? Consider helping your community. Offer your time to organizations that rely on volunteers to function. Gain and graduate with the experience that will help you find a job or transition to another job. Volunteering can be a part of your life whether in school or when you graduate. Consider these five examples:
You can make a difference, and contribute to things you care about.
Volunteering may help you find a new career path and explore new interests.
Volunteering provides opportunities to work with diverse populations. Meet students, alumni and members of your community.
Employers like professionals who have leadership skills and experience. Volunteering is an opportunity to gain just that.
Bauer Serves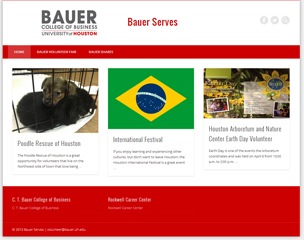 Bauer Serves is a new website that focuses on volunteer opportunities for Bauer students.
Volunteer with the Rockwell Career Center
Recruit a Bauer Student (Internship or full-time jobs)
Mentor a Bauer Student
---
Walk In Hours
| | |
| --- | --- |
| BBA & MSACCY Counseling | Mon. 3 – 4 p.m. |
| | Tues. 2:30 – 4:30 p.m. |
| | Wed. & Thurs. 11 a.m. – 12 p.m. |