Rockwell Career Center
Corporate Advisory Board
The Career Center at the Bauer College would like to thank those employers who make our student programming possible. These are the companies who provide not only the necessary financial support to make our student programming possible, but also volunteer support. Our advisory board participates in student events, classroom presentations and, of course, in regular career programming with students. Because our student programming is only possible due to the financial generosity of these partners, we have Advisory Board meetings twice each year with these shareholders to seek their guidance on strategies, budget, priorities and curriculum.
You can partner now using the "Support RCC" button on this page and selecting "Rockwell Career Center" under "Other Giving Options" in the online donation form. See the partnership benefits information below for more details on partnership levels.
For more information about joining the Advisory Board, please download our partnership brochure at the link below or contact Jamie Belinne, Assistant Dean of the Rockwell Career Center, at jbelinne@uh.edu or 832-842-6121.

2015 Partners
Rockwell Career Center
Partnership Program
The C. T. Bauer College of Business' Rockwell Career Center (RCC), funded entirely by the generosity of our corporate partners, serves one of the largest and most diverse business schools in the nation. RCC's members not only provide opportunities for students with programming and employment opportunities, but they provide relevant feedback as Advisory Board members.
The RCC Partnership Program recognizes its annual supporters of its career development and student leadership programs. Members are recognized on the website, at specific events and on a donor recognition wall at the Career Center front desk, as well as participation on our Advisory Board. Unless otherwise noted, the period of membership includes three consecutive semesters from the time of the member's enrollment, including one Fall, one Spring and one Summer semester. Click here for more information.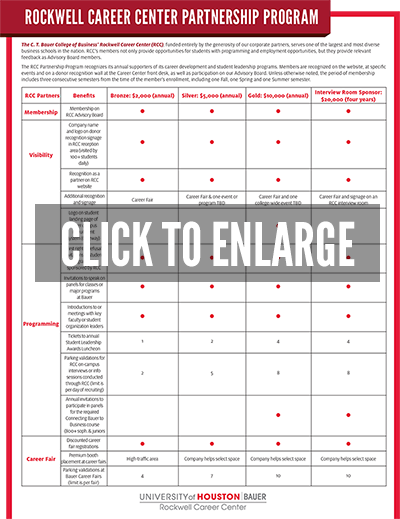 Walk In Hours
| | |
| --- | --- |
| BBA & MSACCY Counseling | Mon. 3 – 4 p.m. |
| | Tues. 2:30 – 4:30 p.m. |
| | Wed. & Thurs. 11 a.m. – 12 p.m. |
Related Links