The Cyvia and Melvyn Wolff Center for Entrepreneurship
3 Day Startup Program
What is 3 Day Startup?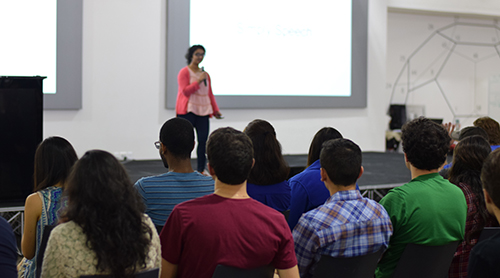 296 programs at 150 schools across 6 continents have launched 90 companies receiving $70 million in funding. 29 companies have been accepted to accelerators such as Y Combinator, TechStars, 500 Startups, and Capital Factory.
The idea of 3 Day Startup is simple: start a technology company over the course of three days. We reserve work space for an entire weekend, recruit 40 students with a wide range of backgrounds, cater food and drinks, invite top-notch entrepreneurs and investors, pick the best idea for a startup during the Friday brainstorming session, and release a minimal prototype by Sunday night. The goal is to build enough momentum among a network of motivated people to sustain the company beyond the weekend.
Who?
Passionate students with an entrepreneurial drive, including Computer Science (PhD, MS, undergraduate), MBAs, law students, graphic designers, PR, business undergraduates, etc. We are looking for strong candidates that can fill the following roles:
Software Engineer
Business (Finance, Marketing, Biz Dev)
Graphic Design (Web, Print)
Advertising, PR
Legal
Other: Wildcards, Raw Passion
When?
Deadline to apply: Friday, October 7th, 2016
Friday, Nov. 4, 2016 at 2 p.m. until Sunday, Nov. 6, 2016 at 9 p.m.
Where?
TMCx
2450 Holcombe Blvd.
Why?
We know many people with great ideas who fail to execute on them for a variety of reasons: lack of time or money, no access to the right people, or not enough confidence to make the plunge. We provide all of the resources to bring an idea to life with the help of 39 other highly skilled and motivated individuals.
3 Day Startup is a great way to get the community excited about entrepreneurship and to spend an intense weekend with creative people who want to actually bring an idea to life as opposed to sitting back and listening to YATAE (yet another talk about entrepreneurship). It's also a social and business experiment to see how much a group of passionate people can accomplish over the course of 60 hours.
If you'd like to stay in touch and be notified of future programs, please connect with us via our contact page.
---
3 Day Startup is only open to accepted participants and a small number of selected mentors. The final pitches are open to the public.
When:
Deadline to apply: Friday, October 7th, 2016
Nov. 4, 2016 at 2 p.m. until
Nov. 6, 2016 at 9 p.m.
Where:
TMCx
2450 Holcombe Blvd.
---
Photo Archive
See photos from previous 3 Day Startup Programs.
---
Contact
Email us at: uofhouston@3daystartup.org
Check out our twitter: @3DSHouston
Join the 3DS University of Houston Facebook Group
Join the global 3DS Facebook Group.
---
Three Day Startup 2014
Contact Us
713-743-4752
wce@uh.edu
Physical Address:
University Classroom & Business Building, Ste. 536
4742 Calhoun Rd.
Houston, TX 77204-6021
Mailing Address:
C. T. Bauer College of Business
Wolff Center For Entrepreneurship
4750 Calhoun Rd.
Houston, TX 77204-6021
Entrepreneurship Major Academic Advisor:
Asha Thomas
Melcher Hall, Room 262
713-743-8963
asha@uh.edu